wilderness images and information
Join photographer, author and long-time local Paul Curtis on a tour around some the less visited, yet extremely photogenic sites around Tropical North Queensland.
Join me in a tour around some of the less visited but extremely photogenic sites around the tropical north.
Tours are varied to suit the customer and the prevailing weather and conditions, but foremost is the goal of finding some remarkable sites and returning with wonderful pictures.
Tours can be half day, full day or one or more nights away to capture the golden hours of dusk and dawn. I'm there to provide a window into the true north Queensland and to assist you where I can to get the best out of every photo opportunity.
I cater for the experienced enthusiast/professional or if you are new to outdoors photography I'd like to help you get the best out of your camera and the wonderful subjects presented. Maximum number is 4 adults so each trip is flexible to suit your needs. No rushing from place to place and packing up unless you are satisfied.
Perhaps you are not even a photographer and just after an expereinced guide to the great outdoors of north Queensland.
Costs are all inclusive except where indicated.
I can collect you from anywhere in Cairns to the northern beaches (up to Palm Cove) and departure times depend a bit on your location—but generally around 8.00am. I plan to break up the journeys with regular stops so we don't spend too much time in the car, however most of our destinations are at least 1 hour drive from Cairns
I don't have a schedule that takes you to specific places on specific days. My tours can have a flexibility to suit your needs. You let me know what tour sounds appealing and when you are available. If you are travelling singly I can establish a "schedule" around your availability (time permitting) and see if others are interested on the day to bring the price down. Otherwise the half or full day fee will have to apply. (see fees and charges).
All these tours are designed to be only mildly strenuous so you don't need to feel limited in what photo equipment you bring. For the more adventurous and fit I have some spectacular walks into remote country that can be customized to your time, fitness and photographic objectives.
Overnight tours can be arranged and require a degree of self-sufficiency and preparedness to "rough it" a bit, however, all meals and equipment can be provided—just remember your camera(s), batteries and cards! Oh, and a tripod if you have one.
PLEASE CONTACT PAUL DIRECTLY (see top of page) IF YOU HAVE ANY PROBLEMS WITH THE BOOKING LINK BELOW.
$190
Mysterious Waterfalls
Full Day
$190
Rainforest Circuit Drive
Full Day
$190
Creeks and Canopy Walk
full Day
$190
cloud forest
Full Day
$130
Golden Beaches
Half Day
Full Day
rainforest circuit drive
$190
A bit of everything on this one. Anything can pop up along the 40 km rainforest drive but we'll have the chance to explore some rainforest streams, all sorts of scenic forest types and some spectacular viewpoints along this wilderness circuit drive. 8am to 7 pm—snacks and lunch provided. Involves an optional 10 min steepish rainforest walk up to the Mt Edith lookout. Time and energy permitting, we will stop off at Emerald Creek Falls for some nice creek and cascade country to finish off the day.
Full Day
Mysterious Waterfalls
Tour
$190
Some photogenic tableland waterfalls that few people visit or even know about.
A little bit of exciting 4wdriving through remote country past some great lookouts and spectacular northern rainforest. Depart 8am and return 7pm (negotiable). Option to stop off at Hasties Swamp bird hide if you are interested in wildlife. Lunch at your expense at the Popular Cafe in Ravenshoe – Queensland's highest town. Stopping off at the Windy Hill windfarm then back for late afternoon at Drover's Lookout and Hall's Falls.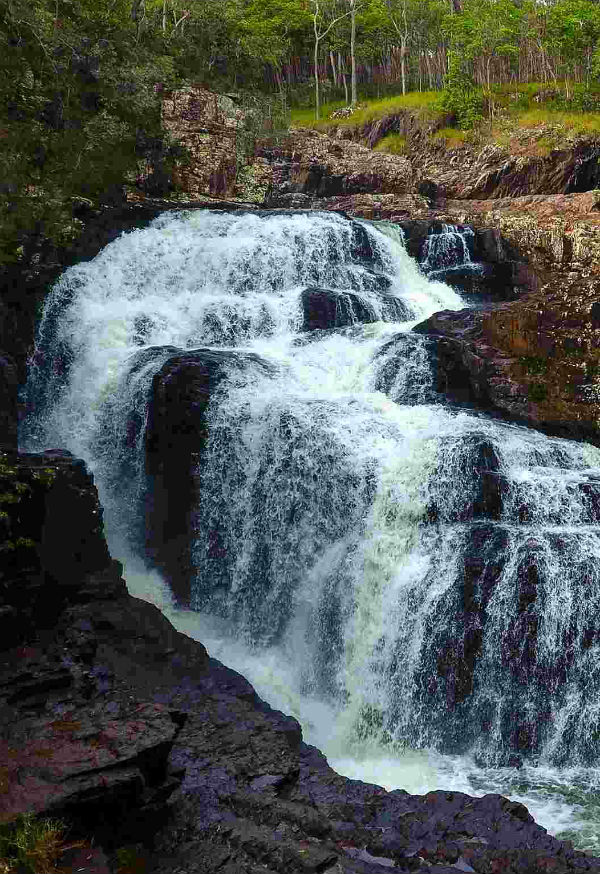 Full Day
Creeks
and
Canopy
Walks
$190
About 1 hour south of Cairns is the Mamu Rainforest Canopy Walkway. Something quite unique in this part of the world that provides some great photo opportunities. Along the way we will visit Babinda Boulders and Henrietta Creek with optional lunch (at your expense) at Mungalli Falls. Tour cost includes entry to Mamu. Weather and time permitting, we will stop at Josephine Falls on our return to Cairns.
Full Day
Cloud forest tour
$190
Spend a day in high altitude rainforest exploring the lush streams and forests of one of the north's premier rainforest drives. Opportunities to stop in many places to indulge your creativity. Depart Cairns around 8am and return around 7pm (negotiable). Snacks and lunch provided. Approximately a 1 3/4 hour drive from Cairns.
Full or Half Day
Golden Beaches
tour
$130 Half day
An hour south of Cairns is one of my favourite beaches in north Queensland. For a half day tour we need an afternoon low tide to fully appreciate the area.  Depart around 1.00pm for half day. Bring a hat and light shoes (they may get wet) and I can provide the sunscreen. Return whenever you feel like it! An option to stay for an often glorious sunset and late return. Afternoon snacks and refreshments provided.